Travel information
The workshop will take place at the Dorint Sofitel Kongress Hotel Koeln. The hotel is located in Helenenstrasse 14 - slightly west from the absolute inner center of Cologne. See below for instructions on how to get there within Cologne.
How to get to Cologne
To reach Cologne you have the choice between 3 airports: the closest airport is Koeln/Bonn (CGN) which is served also by cheap carriers. You might want to check out www.whichbudget.com for flights from within Europe. Duesseldorf (DUS) is not far either and is served by more international airlines. Public transport in the area is very good and one can get to the center of Cologne in less than one hour from DUS.
Frankfurt (FRA) is the biggest German airport served from most big cities. There is a high speed train between the airport and Cologne such that you can get to cologne in one hour. The train runs once per hour.
To reach Cologne by train you can find connections and order tickets online at Deutsche Bahn. Cologne is on the major ICE lines and connected to Brussels and Paris by Thalys.
Directions to the Dorint Workshop Hotel from the Main Train Station (Hbf)
Leave the train station in the direction of the cathedral (on the map, check the upper right side for the $B!H(BHbf$B!I(B oval).
As you step outside the train station you will see the beautiful Dom to your left and a massive old, grey building in front of you.
Walk STRAIGHT down the street (Komödienstr.) that is LEFT to the building. After about 50m there will be a McDonalds to your right (sorry for this piece of cultural imperialism).
Keep walking straight on this street (the street name will change into Zeughausstr.) for about 10min.
The Dorint Workshop Hotel will be prominently visible on your left. Its address is Helenenstrasse 14.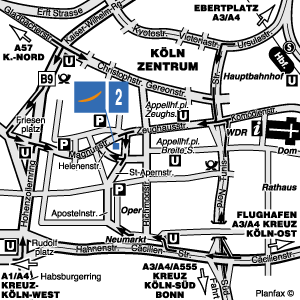 What to do in Colgne
There are quite a few cultural highlights which you may want to explore in your spare time. All three main attractions are only about 10 walking minutes away from the SHARCS workshop hotel. Please refer to the
city map
for the exact locations. Note that all museums, but not the cathedral, are closed on Mondays.
We compiled some information about Cologne and the attraction for you:
What to do in Cologne
.
More information on Cologne can be found at the official pages